Class 1 Oil Separators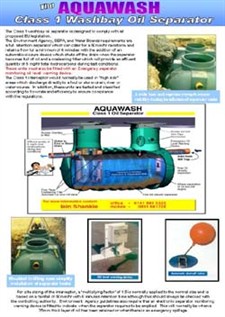 The Class 1 washbay oil separator is designed to comply with all proposed EU legislation.
The Environment Agency, SEPA, and Water Boards requirements are a full retention separator which can cater for a 50mm/hr rainstorm and retain a flow for a minimum of 6 minutes with the addition of an automatic closure device which shuts off the drain when the separator becomes full of oil and a coalescing filter which will provide an effluent quantity of 5 mg/ltr total hydrocarbons during test conditions.
These units must also be fitted with an Emergency separator monitoring oil level warning device. The Class 1 interceptor would normally be used in "high risk" areas which discharge directly to a foul or storm drain, river or water course. In addition, these units are tested and classified according to flow rate and efficiency to ensure compliance with the regulations.