Scrubber Dryers, Sweepers, Floorcare Equipment from Aquawash
Welcome to the Aquawash Floorcare Division.
Specialising in the sale, service, hire and repair of Industrial Cleaning Machines throughout the UK, our extensive range of cleaning equipment includes floorcare & floor maintenance machines, floor scrubber dryers and sweepers. Using our expertise we will ensure you find exactly the right cleaning machine for all your requirements.
Our floor scrubber drier machines will wash, scrub and dry your floors. Our extensive range of scrubber drier machines covers all sizes of floor washers from the smallest electric pedestrian scrubber dryer ideal for smaller floor areas to the largest sit-on scrubber dryer powered by battery for large areas. Most of our scrubber dryer models are available for outright purchase, lease-rental, lease-purchase or Contract Hire.
Aquawash OMM 700 Ride On Scrubber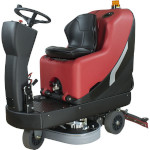 Super manoeuvrability and cleaning performance.

Large water tank capacity.

Robust and heavy duty machine.

Superb build quality.

Forward & reverse traction.

User friendly with simple controls.
Our 820mm ride-on scrubber drier is perfect for large-scale industrial floor cleaning.
Areas of use: Factories, Warehouses, Large Retail, Distribution, Supermarkets, Airports and Shopping Centres.
Contact Us To Request Brochure