Trailer Mounted & Bowser Pressure Washers
Aquawash Hot Trailer with On Board Water Tanks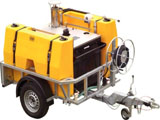 Hawk HC550 Pump

3000 PSI.

18 Litres per minute flowrate.

Triple V Belt drive - Single screw adjustment drive.

Kubota 14 H.P Water Cooled Engine.

Heavy Duty Zintec Box Section & St/St Covers Chassis.

Stainless Steel Cover.

Double wound vertical coil.

80 - 120oC Temperature Range.

27 Litre Fuel Tank.

Low Pressure Injection Detergent.

Heavy Duty Industrial Use.

Steam Stage Low Pressure.

Heavy Duty Galvanised Chassis.

2 x 300 Litre Baffled On Board Interlinked Water Tanks.

Lockable Tow Hitch.
Contact Us To Request Brochure
Bowser Pressure Washer 1100 Litre Cold only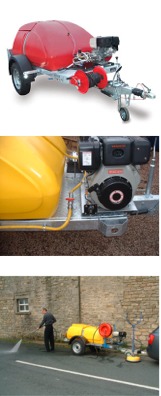 Interpump Pump

1500 to 3000 PSI.

11 to 18 Litres per minute flowrate.

1100 Litres Water Bowser.

Honda Petrol or Yanmar Diesel Engine.

Road tow trailer with full highway spec.
Contact Us To Request Brochure