Trailer Mounted & Bowser Pressure Washers
Aquawash Hot Trailermounted Unit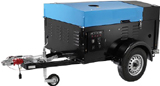 Available with a variety of engines with specifications ranging from 3 cylinder to 4 cylinder water cooled diesel engines. All complying with EC emissions & noise regulations. We offer a variety of engine manufacturers including Yanmar & Isuzu.
Consisting of a box section main chassis with bolt on zintec panels coated with an epoxy stove enamelled finish. Fitted with a stainless steel water tank although the unit is easily converted to direct suction. Also fitted with a 75 metre high pressure hosereel complete with 15 metre high pressure hose, heavy duty on/off gun, lance & nozzle.
The road going trailer comes complete with 2 13" wheels, brakes & lights including jockey wheel, parking brake and 2 stabilising stands.
The fuel tank complete with triple fuel filter system, sight level gauge & low level fuel cut out immobilising the engine.
The lockable control panel incorporates the engine key switch, thermostat, hour run meter & 16 amp 110v socket. It is also fitted with lights indicating cold start, low oil pressure cut out, engine over temperature cut out & 12v charging circuit.
Contact Us To Request Brochure
Aquawash Hot Trailer with On Board Water Tanks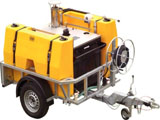 Hawk HC550 Pump

3000 PSI.

18 Litres per minute flowrate.

Triple V Belt drive - Single screw adjustment drive.

Kubota 14 H.P Water Cooled Engine.

Heavy Duty Zintec Box Section & St/St Covers Chassis.

Stainless Steel Cover.

Double wound vertical coil.

80 - 120oC Temperature Range.

27 Litre Fuel Tank.

Low Pressure Injection Detergent.

Heavy Duty Industrial Use.

Steam Stage Low Pressure.

Heavy Duty Galvanised Chassis.

2 x 300 Litre Baffled On Board Interlinked Water Tanks.

Lockable Tow Hitch.
Contact Us To Request Brochure
Bowser Pressure Washer 1100 Litre Cold only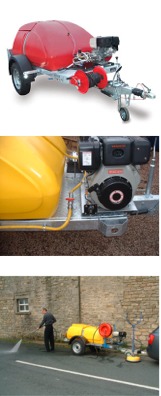 Interpump Pump

1500 to 3000 PSI.

11 to 18 Litres per minute flowrate.

1100 Litres Water Bowser.

Honda Petrol or Yanmar Diesel Engine.

Road tow trailer with full highway spec.
Contact Us To Request Brochure