Multi Pump & Pipe Systems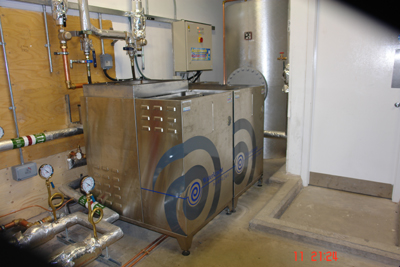 Here at Aquawash we offer a vast range of possibilities for the justifiable application of high pressure cleaning. These range from an easy to use one man unit up to and including technically sophisticated, user friendly, multi user installations. Stationary high pressure installations are especially suited to centralised cleaning methods. Time lost due to the coupling and uncoupling of equipment is reduced to a minimum.
A Stationary, multi-gun high pressure installation from Aquawash is centrally placed and "feeds" all connected tapping points via a system of high pressure stainless steel pipework.
An Aquawash installation is constructed using 1 or more high pressure pumps, depending on the number if operators who will be simultaneously using the system.
The advice of our Aquawash specialists covers many areas and includes not only of high pressure installations but also of specific detergents and accessories exactly attuned to the type of dirt to be combatted.
Aquawash offer complete "turn key" projects in hospitals, large kitchens, breweries, abattoirs, transport sector, off-shore installations, agricultural sector, foodstuffs industry and research centres.